Originally published January 2020. 
At the beginning of the year, I joined my students an Embarc experience in West Loop Chicago at Brooklyn Boulders. I thought: what a great opportunity for my students to experience empathy in an authentic team-building way. Empathy is defined as the ability to understand and share the feelings of others.
What I wasn't prepared for was how modeling empathy was going to impact my own experience.
I'm sure you've met DB before, one of the first students to enter your classroom. Upon entering your classroom, she gives you a cheerful "Good morning Mrs. Ponder!" Her petite frame is always groomed immaculately and her glasses give her this studious appearance. She pulls her materials out from her backpack and her folders and notes are organized and neat. She places her homework on her desk and the smile on her face is filled with such pride. She deliberately sits up front with a group of like-minded students who could easily be labeled the "nerds" of the class.
Although DB is quiet when called upon, she gives you a thoughtful but relevant response in complete sentences. Oftentimes, I've caught DB giving a nudge to other distracted classmates to get them back on track. Not only is she self-motivated, she also motivates and encourages her peers to do the right thing.
When you get a student with DB's characteristics in your class, it's similar to having a rare gem in the palm of your hands.
Therefore, in your peripheral mindset, you know that students like her will be okay. Therefore, you tend to focus more on distracted students with constant redirection. Conferencing with them during your lunch periods and after school. Calling parents especially for those disrupting the classroom environment.
At my beloved Englewood STEM High School we had an Embarc Experience Day whereas the majority of our studnents leave campus with their advisory teachers to gain exposure throughout Chicago, visiting places like Second City, Project SYNCERE, Chopping Block, Chicago Industrial Arts and Design Center and other sites.
My advisory students along with two other fabulous teachers and their advisory students visited Brooklyn Boulders. The company is anchored by the notion that physical movement stimulates innovation, community, and creativity. Our students had a blast engaging in the various team-building activities and even got an opportunity to participate in some rock climbing.
This was a fantastic way for us to build empathy within our community and connect to our school values of love, accountability, innovation and respect.
It was really cool watching students who initially had reservations prior to us departing for the experience begin to let their guards down. One student even stated, "I'm not participating once we get there so don't bother me at all." While those students who were initially on the sideline didn't want to miss out on all the fun, so they eventually jumped in to support students through cheers or joined one of the participating teams.
DB participated in all the activities from beginning to end and gave others hope as she boldly climbed the wall. After the experience, we boarded the bus to head back to school. Most of the students sat in the same seats as before, but the energy level of students was still high (the chocolate chip oatmeal cookies assisted in this hyperactivity). On the bus I decided to sit next to our students and gravitated towards DB where she sat with plenty of space to share. I asked her permission to join her and with that warm smile, she accepted. I noticed a striking picture on her phone screen and asked her to tell me more about it.
She began explaining that the photo was taken at her eighth-grade graduation. She opened her phone, which for a teenager is synonymous with opening your heart. She began sharing pictures of her eighth-grade luncheon, ribbon pinning, and a few other family photos. She shared with so much pride and passion that I barely noticed that we were so close to the south side.
The photo that shook me to the core was one of an older brother who recently attended Mississippi Valley State. She went on to explain to me that he was killed in a fatal crash last year headed back to campus with friends. DB showed me his last grade report which was basically all A's. She went on to say that she was going to attend Mississippi Valley to finish what he started. She said that she would graduate with honors. DB also revealed that she has another brother in Cook County Jail and that she had been helping raise his daughter. Her niece is truly adorable and an energizer bunny indeed. She stated that she has already researched apprenticeship programs for him to apply to once he is released sometime next year.
As I reflected on this experience what kept replaying in my head was, here is a student whom I did not realize had this type of trauma in her life.
She looked and behaved so well that her social-emotional needs were not on my radar. I had not referred her to any of our counseling programs, I had not asked her how she was doing. She loses a brother who escapes the violence of Chicago and goes off to college to better himself. Yet she still desires to go to college to receive a diploma in his honor. She takes care of a niece who she refers to as the apple of her eye.
So on our next field experience I will find another quiet student to chat with. Empathy truly matters.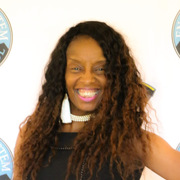 Sharon Ponder-Ballard
Englewood STEM High School